Welcome to the Jellyneopian Times! Click on the link below to see our FAQ and application rules.
Updated JNT FAQ and Application Rules
Links to old JNT issues:
Issue 2
Issue 3 (Editor change to JohnPaul from here)
Issue 4
Issue 5
Issue 6
Issue 7
Issue 7's Writing Corner
Issue 8
Issue 9
Issue 9.5
Issue 10
Issue 11
Issue 12
Issue 13
Issue 14
Issue 15
Issue 16
Issue 17
Issue 18
Below is the first ever JNT. It was posted on March 28th, 2009 by Tara, the first editor of the JNT.
Welcome to Issue 1! We have three articles and a comic, as we're pretty new.
Buckets and Johns and Pauls, Oh My! (Exclusive Interview with Zador)
Welcome to Staff Interview, Week 1! This week, I got an exclusive interview with the only Faerie on the JN Staff, The Bucket Faerie/ Zador!:

Me: Excuse me, Mr. Zador,

I am a journalist with the JellyNeopian Times and we'd like to interview you for our staff interview section.


Zador: Really going through with it then
? Sure, I'll answer your questions.

Me: Ahem.

Question 1: As the Bucket Faerie, what are your duties around Bucketon and as a staffer?

Zador: In Bucketon, I (Bucket Faerie) run the BFQR, RBLG and CBMRC departments. I go around Bucketon giving out special quests and exposing bubkets and people who abandon buckets. As a staffer, I oversee the Item Database despite being Content Writer, but I only worked on Content for my first year or so (out of three).

Me: Question 2: Describe the Menace of the Bubkets/Bubket Faerie/Lolruses.

Zador:
The Bubket Faerie and his/her/its bubkets are basically opposites of me and the buckets. Whereas I encourage to adopt and love buckets, the Bubket Faerie encourages abandoning and harming of buckets as well as replacing any buckets with bubkets. The Lolruses are the evil walruses who claim to have buckets stolen from them. As I and those who know of the true nature of these monsters know, Lolruses are actually the true bucket thieves. They will go to great lengths to succeed in stealing and locking up buckets.

Me: GASP! The whole world must be mad aware of this menace! :0

Question 3: What do you do when you come upon a Lolrus? Do you lock it up, zap it, etc?


Zador:
One whack of the Special Bucket Wand of Enigmatic Arcane Powers will paralyze a lolrus, enabling for it's capture, interrogation, etc.

Me: Final Question, Mr. Zador:

How do you feel about the JellyNeoQuest series?


Zador: It makes for an interesting read First one had some problems but the 2nd one pretty much fixed those. Great job!

Me: Thanks for allowing me to interview you! Be sure to read next weeks interview with staffer: Ailae?

Zador: Thanks for having me!
JohnPaul and Zador were very helpful. Next week, we might be doing Aila, might be doing Terry. Now for the next article.
CHOKATONEGG AND HER TRIP TO STARDOM


ChokatoNegg, also known as Cho, was a recent captive of the famous JellyNeoQuest II, led by JohnPaul. Reports from the Library Faerie were that they were rescued once the rest of the team went to Faerieland, and she played a little prank on Cho by mesmerizing her.

"She didn't enjoy it at first," she said while giving the report, "but she really laughed when I told her I couldn't resist. I could still do my work on the crosswords while trapped, but nobody got to where I was to do them."

Cho was able to help JohnPaul and the others to defeat Fyora. Rumour has it, most likely led by her, that Terask was kind to her for a change.

"It's true," Cho told us. "He said that he was fed up with Jhudora as his boss. So we went in, and defeated her, and I haven't seen Terask since. He must have gone to have a mug of hot borovan with Mipsy, as she somehow disappeared after defeating the one behind all of this."

We also interviewed some of the main members of the team, specifically JohnPaul and Clouds. We asked what happened when Cho was kidnapped, how they felt. This was JohnPaul's response.

"It was awful when she was kidnapped!" he said, but when asked if it was true that someone tried to fly after Cho's kidnapper, he said "Well, yes and no, is it my fault that I almost got blown up?"

We went over to interview Clouds about the happenings with the encounter of the Darkest and Sloth Faeries.

"She cast Obliterate on me... and that's all I remember," she told us in a letter containing the answers to the interview, with the Darkest Faerie fight first. "And as for Cho falling, I honestly don't know because I was unconscious."

Then we asked what happened when they fought the Sloth Faerie. "If I remember correctly he defeated me...," she said, "then JohnPaul revived me. And... a few minutes later he mesmerized me. I was still mesmerized when the battle ended."

Next week, we will have an interview with Illusen on what happened. Thanks to the people who contributed to the interviews. The responses were slightly different to what we wrote, but we only did it to make it easier to fit into the report. Thank you for reading this article!
This article was written by me. Now for an article written by JohnPaul, an interview with the one and only Faerie Queen!
FYORA REVEALS SECRETS OF THE HIDDEN TOWER!


JohnPaul: Hi, ms. Fyora! I'm so glad we could sit down and have this interview!

Fyora: The pleasures all mine.

JohnPaul: Great! Shall we begin? Question 1: What can you tell me about the Hidden Tower?

Fyora: The Hidden Tower was built in 53 BN (that is, 53 years before TNT discovered the portal between the human world and Neopia). It is built of a Kreludite/Faerie Dust compound, enabling it to be the most unflippable building in Neopia. The Invisible Faerie Magic surronding it is linked to my wand, thereby keeping it in constant invisibility.

JohnPaul: You say it's indestructible, but in this photo: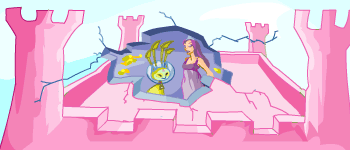 the Aishas crashed through it!

Fyora: Enough about the that incident.

JohnPaul: But-

Fyora: ENOUGH.

JohnPaul: Touchy....Question 2: the Asparachucks. I was told you made them for Adam. Why?

Fyora: Well, at TNT hq, things can get a little...out of hand. Food fights, robots, Sloth, Jellyneo ninjas....

JohnPaul: ??? OK then..question 3: What was it like to be captured by the Sloth Faerie? Who IS the Sloth Faerie?

Fyora: It was INCREDIBLY scary, but I have had worse things happen. Who is he? Apparentaly, he is a crazed Sloth fan who went crazy.

JohnPaul: Question 4: Does it get boring at the Hidden Tower?

Fyora: Well, a little, but it's, erm, um-*hides cardboard cutout of herself from Hidden Tower*

JohnPaul: I can read between * you know. Question 5: What is your response to Neopians who complain about your insanely high prices?

Fyora: Well, if they want it bad enough they can buy it!

JohnPaul: Question 6: Do you have anything you want to say to all your fans everywhere?

Fyora: FYORA POWER FOREVER!

*distant cheers*

JohnPaul: Well, thanks Ms. Fyora, it's a real pleasure!
I am afraid that is the last article, but we have a comic, designed by Clouds!
Well, I hope you enjoyed the very first issue of the Jellyneopian Times! Next week, there will be another issue! We'll be doing this every Saturday. As long as I get up early enough...