THE RULES. YOU MUST READ.
To the entrants:
- Please only submit
one
entry!
-
Do NOT
make posts like, "Ooh I'll join!" No reserving spaces. Posts like this will be deleted.
- Please host your graphic yourself, don't attach it to your post.
Photobucket
and
ImageShack
are popular hosting sites.
- You are
not
allowed to advertise your entry in your signature, but you can advertise this topic.
- (Obviously) you are not allowed to bribe other people to vote for you!
- Animation is permitted but not absolutely required.
- You may NOT edit your entry once you have posted it.
- Please try to spell properly and use correct grammar.
To everyone:
- Stay on topic when talking in this post.
- No rating. If someone wants their signature rated, they can start a thread in the ratings forum.
Entries close at
15
submissions or on
December 25th @ 11:59pm NST
, whichever one comes first.
Please actually spend some time on your graphic. Do not submit something that you created in the past (e.g., a week ago, a year ago, etc.).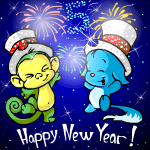 I know we just had a Neopets round, but this opportunity was too good to pass up and would seem awkward in the middle of January.
As we gear up to say goodbye to 2011, let's remember the good times! Create an image composition of your favourite Neopets memories (this year). Maybe you were particularly fond of an event/item/new feature. You can put as many things as you want in your composition--there's plenty of room to be creative!
Maximum width is
450px
and maximum height is increased to
450px
. Feel free to use any font/brushes/textures you want.
This is also the last season 6 Graphics Battle! If you have any suggestions for themes you would like to see in season 7 (2012), you can send me a
Private Message
here on the forums.